A photo essay
Can creative placemaking — the process of engaging local residents in reimagining community spaces for the public good, with an emphasis on arts and cultural activities — help improve public safety? The research literature is limited, but organizations like the Urban Institute and Local Initiatives Support Corporation are encouraged by the potential. In Creative Placemaking and Community Safety, researchers from Urban argue that by deepening civic engagement, creative placemaking can help build collective efficacy and reduce crime. 
Brownsville, Brooklyn, offers a significant test of the theory. It is a neighborhood with a reputation for toughness ("Never ran, never will" is the community's unofficial motto). It is also a place with substantial challenges, including high rates of incarceration and low levels of trust in law enforcement. 
The Brownsville Community Justice Center is a multifaceted effort to address these issues. This includes a significant investment in creative placemaking, with the help of area young people. To get a better sense of what this looks like in practice, we asked the Brownsville Community Justice Center to provide us with a snapshot of this work through the eyes of participants in the process.
The practice of "placekeeping" — creating inviting public spaces that will attract people out of their homes — is at the heart of this strategy. The Justice Center's placekeeping work is led by young people from the neighborhood, providing them with an opportunity to become leaders, learn new skills and have a positive impact on their community. The following photo essay offers highlights of this work, with commentary from participants compiled by Alexis Takahashi, the coordinator of transformative initiatives at the Brownsville Community Justice Center.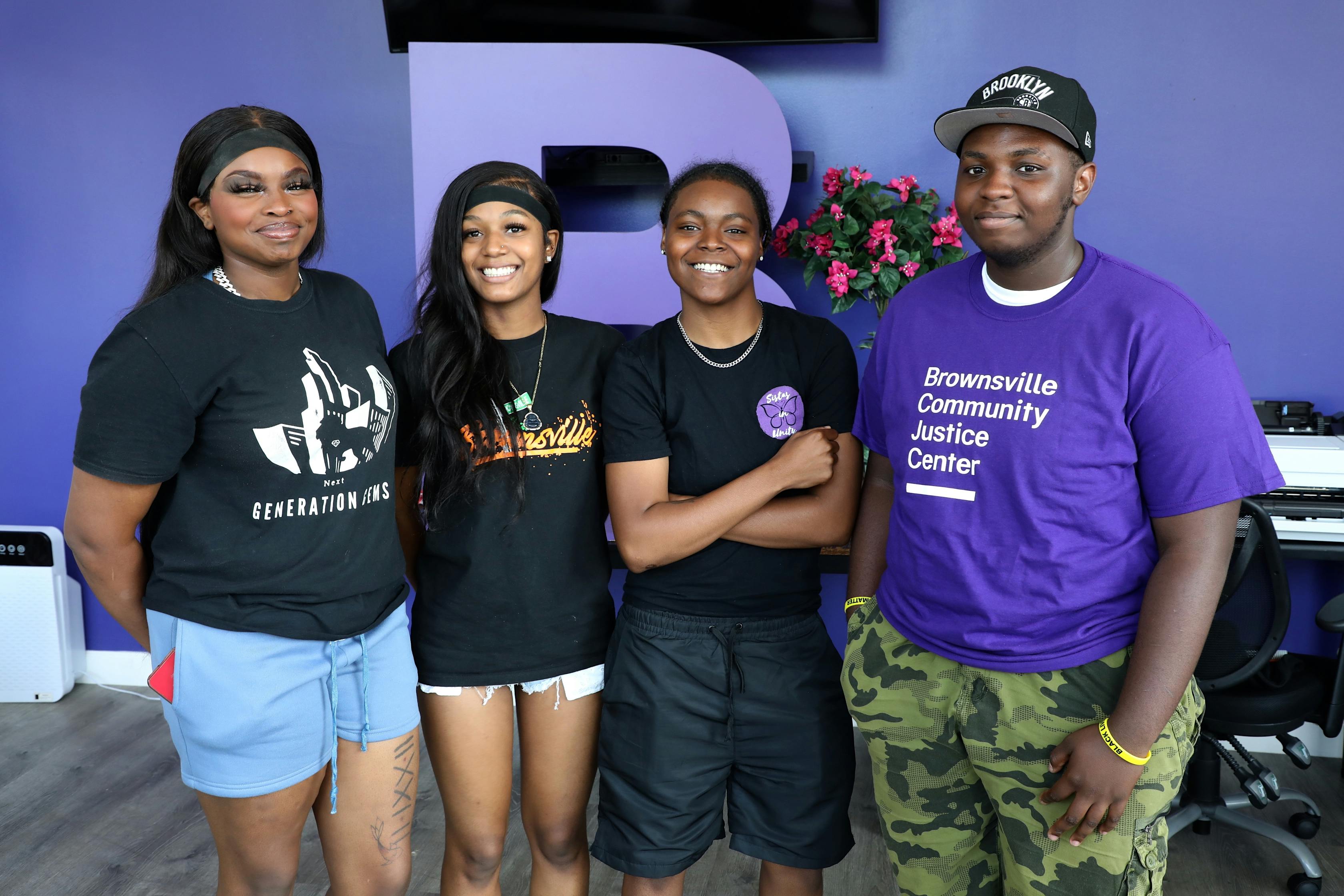 From left: Chanel Perkins, Askyla Bennet​t-Banks, Asia Selby and Xander Singleton of the Brownsville Youth Leadership Council. The council engages local young people in improving safety through community service, peer-to-peer mentorship and other activities. Selby: "Brownsville is a community where people grow up way earlier than their age. That's why we need to start the healing at a young age. We have to pave a new path other than this path of trauma."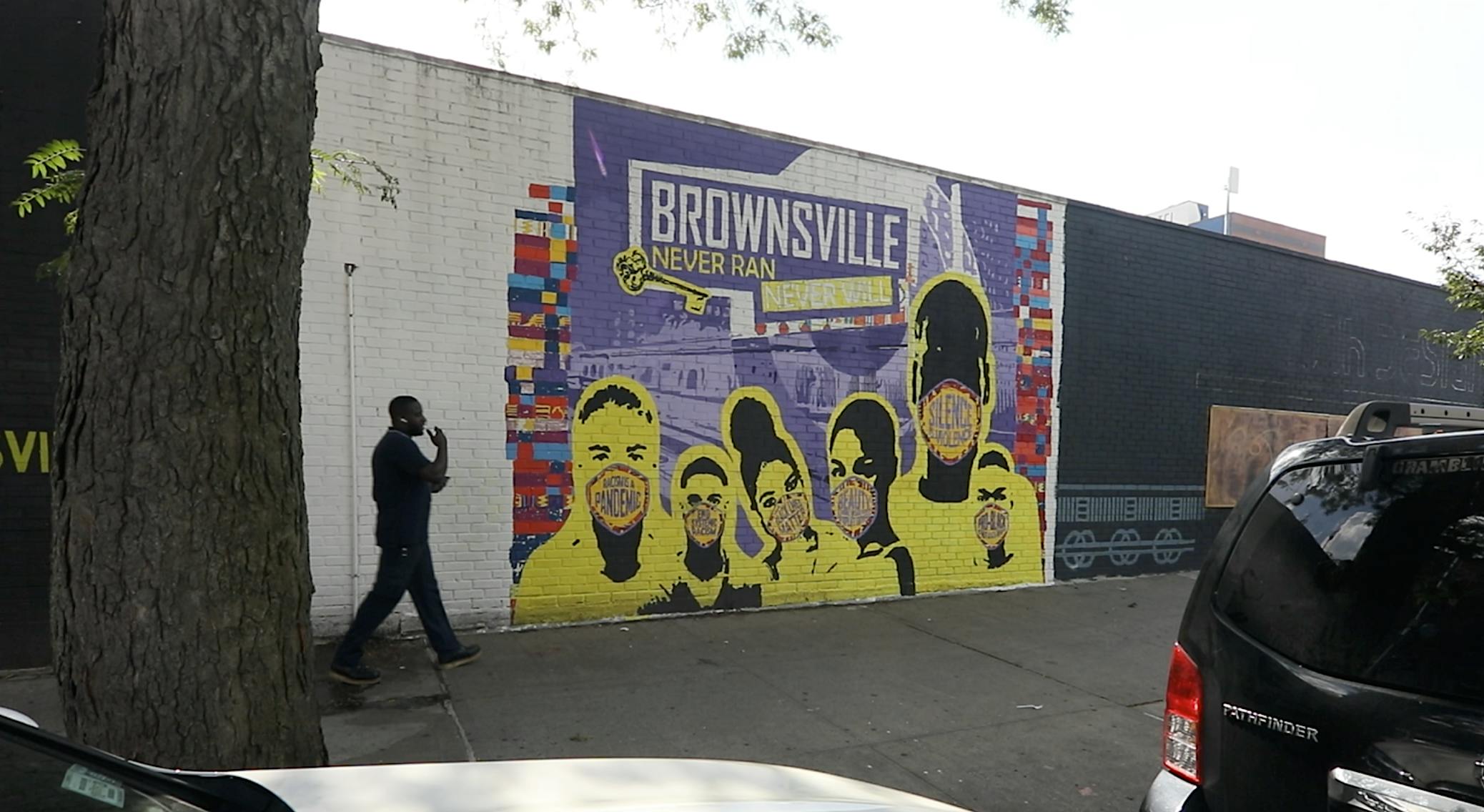 Community murals like this one near Belmont Avenue have brought color and vision to neighborhood walls. Bennett-Banks: "Brownsville is unlike any other community because I could walk outside right now and probably know 50 people just walking down the street. That makes me feel like, all right, this is my hood. I feel safe here most of the time. I feel good here. This is a good place to be, and it's not as bad as everybody makes it seem. I feel like our challenges are the obstacles to being completely united and working together to elevate the community as a whole. Everyone wants to be on top. Nobody wants to move up together."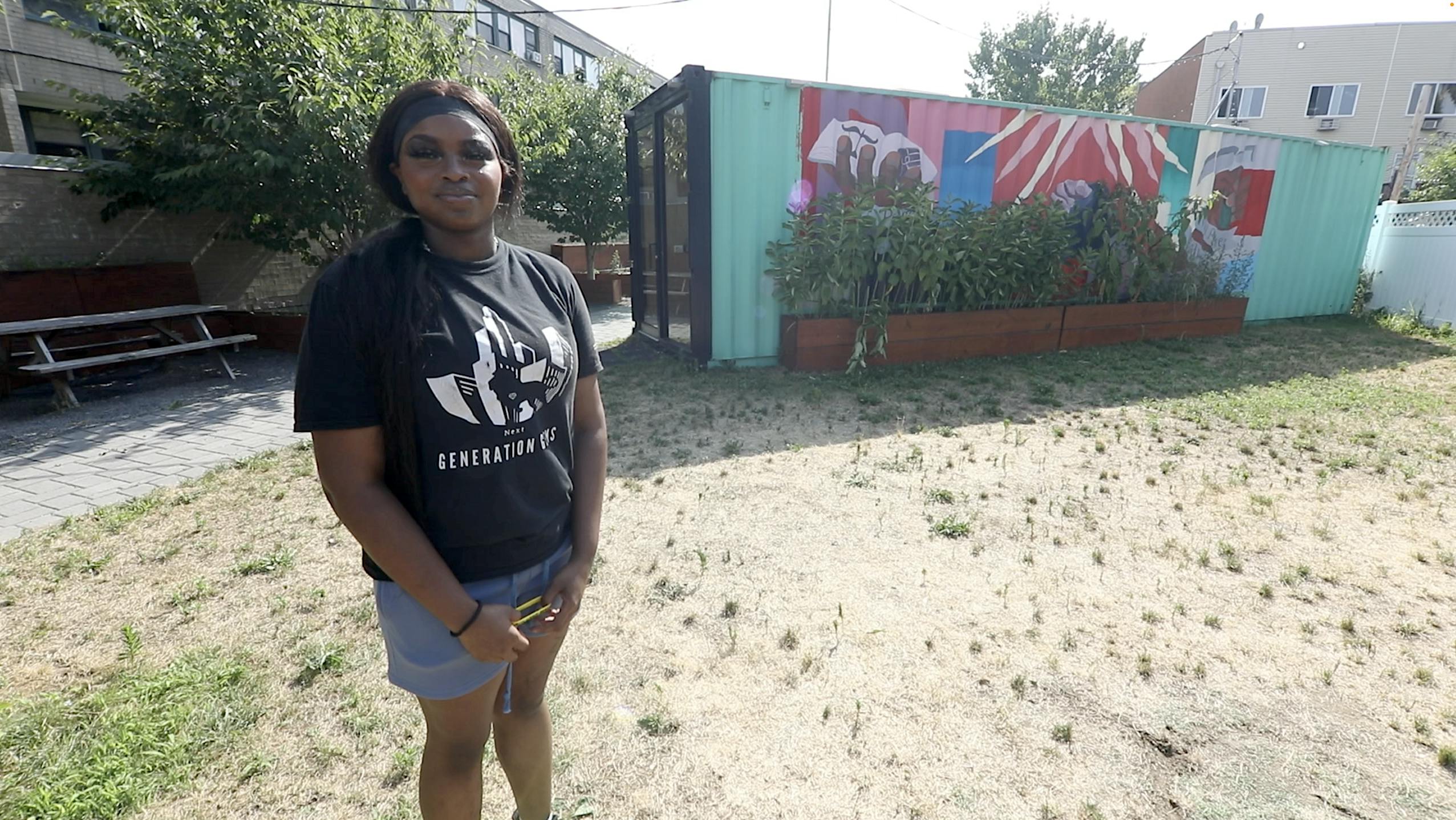 The Marcus Garvey ​Youth Clubhouse is a converted shipping container that now serves as a youth community space. Perkins: "I think one of the good examples of placekeeping is the Marcus Garvey Clubhouse. Before, nobody really wanted to go there. I would walk past, but now that's one of the safe places for that corner of the neighborhood. People know that they can go there, be safe, nobody's going to do anything to them."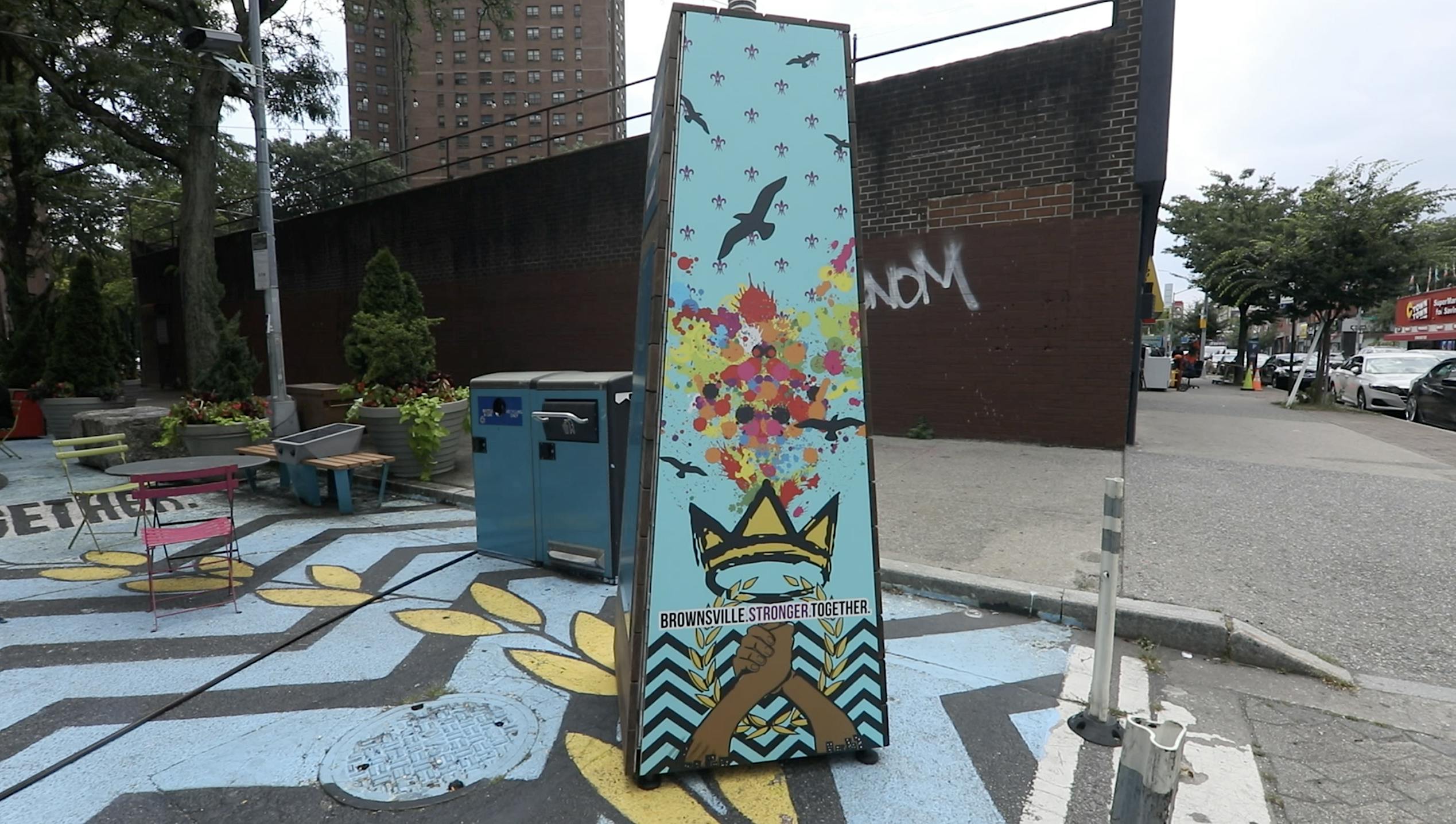 Singleton: "Another example of placekeeping in Brownsville is Osborn Plaza. That space used to be a dead-end parking lot, and the entire block used to have a high crime rate. The Brownsville Community Justice Center put a mural up, brought in chairs, tables and space for you to sit, a place for you to charge your phone. We made it a space for everyone to come to, so it's not associated with crime and negative things anymore."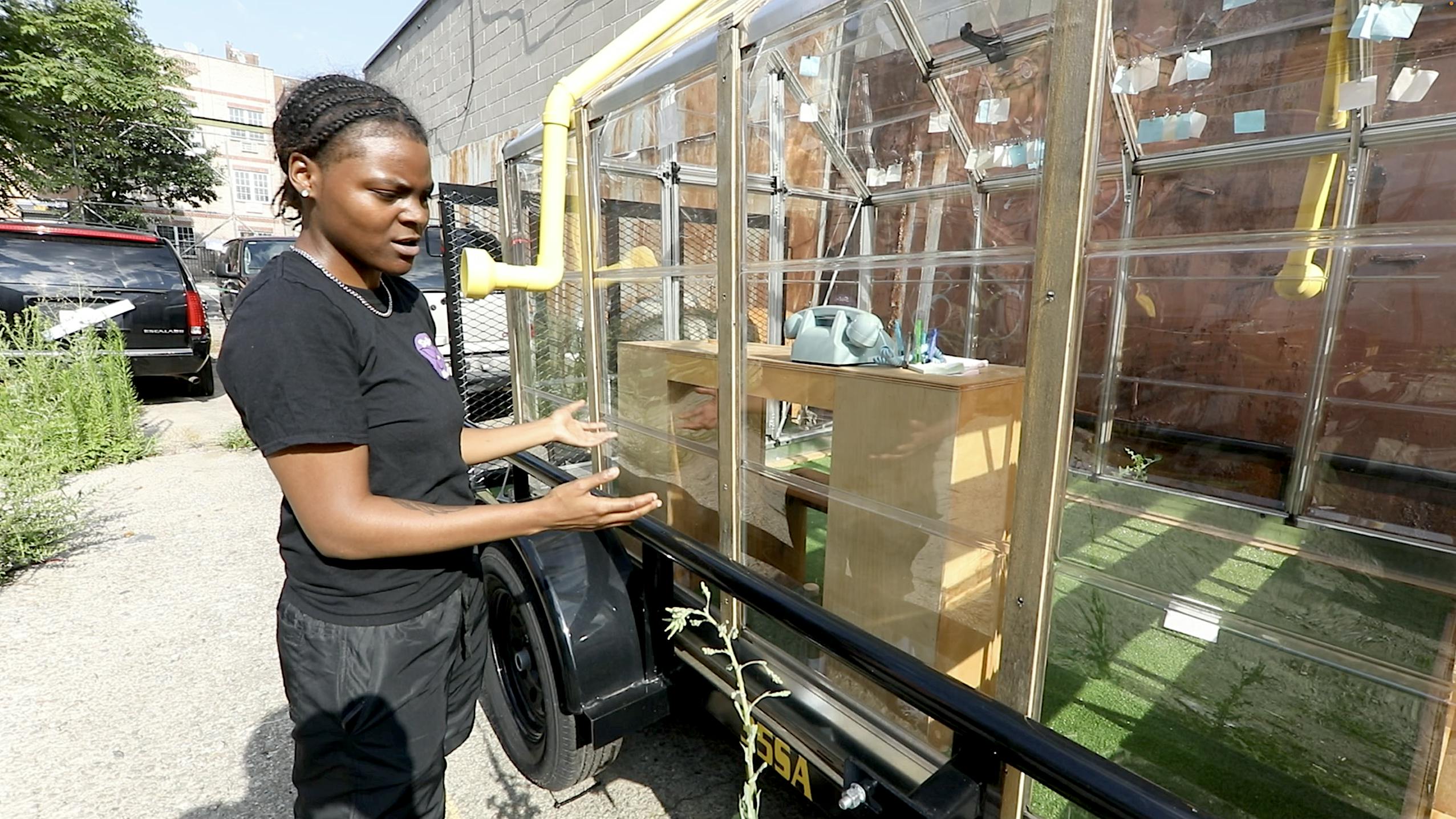 Asia Selby stands outside of a mobile healing unit known as the Release and Restore Room. Selby: "We made the Release and Restore Room very comfortable. A lot of times when you're stressed, you just need to relax. We have weighted beanbags for people to play on. We worked on colors, we worked on fabrics; we have cushioned walls. At one event on Osborn Plaza, we had the Release and Restore Room and a telephone with little sticky notes where we wanted kids to write down how they were feeling or speak into the phone as if they're in another world. There was this kid who came off as quiet, but we interacted with him, and he opened up and had a lot to say. The mother said, 'My kid doesn't interact so much,' but the kid said and wrote a lot."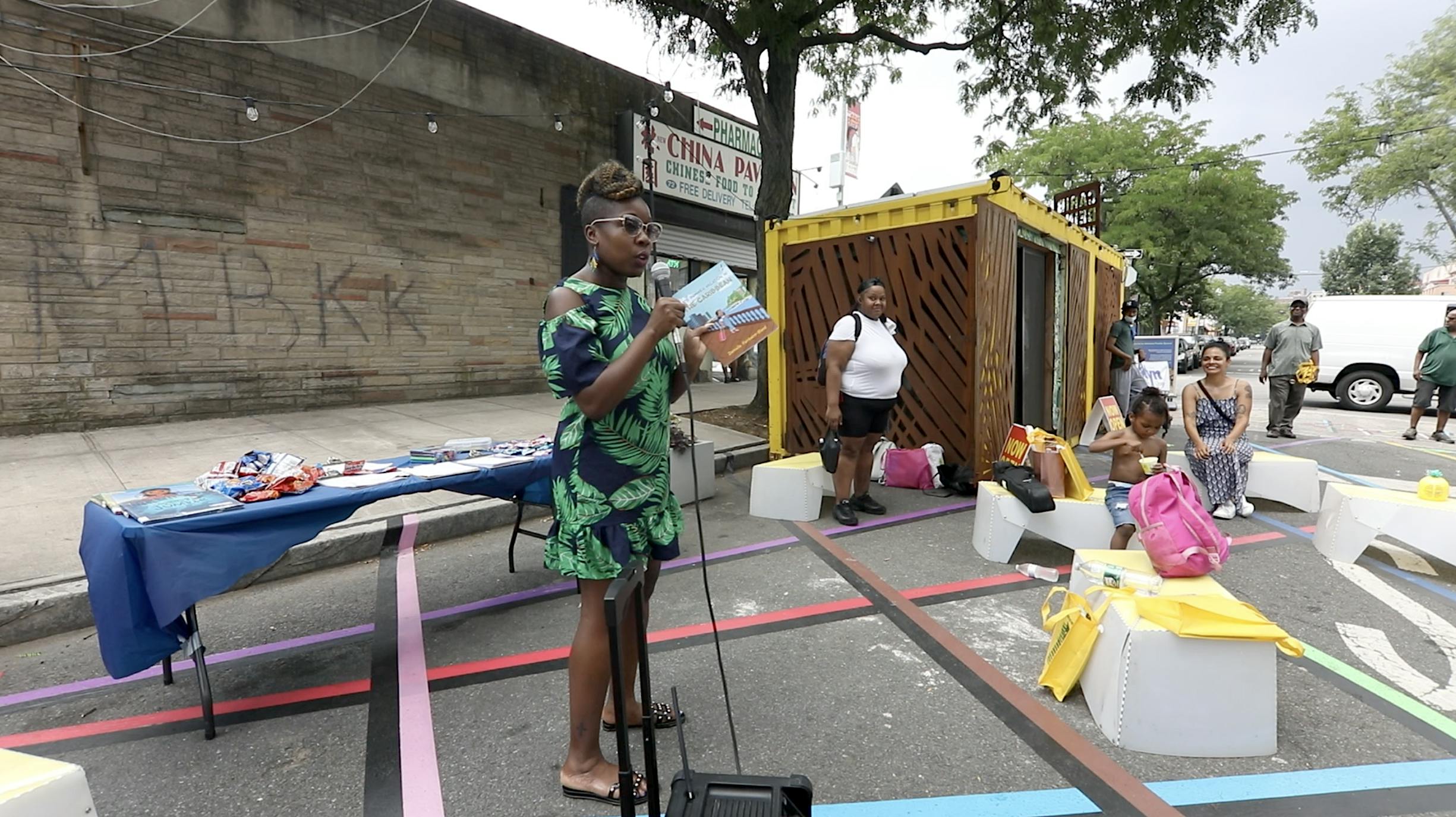 Children's book author Danielle Fairbairn-Bland reads at one of the Watkins Plaza Open Streets Activations, which occur throughout the summer. Perkins: "We grow up learning don't talk to strangers, but with the healing activations, it helps show people that sometimes strangers, especially in your neighborhood, are just friends you haven't met yet."