Architects and designers reenvision them without cars
In recent years, New York City has experimented with how to use streets as more than just conduits enabling cars, trucks, buses, bicycles and other vehicles to get from point A to point B. The COVID pandemic showed the city in the starkest possible ways how streets function as the city's backyard, where people can find solace, release tension and come together.
Summer is the perfect time to accelerate this evolution. The hot months of the year are when the city relaxes its collective muscles and people of all ages flow out onto the streets to barbecue, hear music, toss a ball around or just congregate. Two city programs, Summer Streets and Open Streets, already honor this impulse, closing streets across the five boroughs to car traffic and reserving them for pedestrian and bicycle use, performing arts and more.
Vital City asked a number of architects, landscape architects and urban designers to imagine creative ways streets usually dominated by cars and trucks could be remade in the summertime. WXY  architecture + urban design, headed by founding principal Claire Weisz, boldly reconceived FDR Drive as a place for recreation. Landscape architect Steven Yavanian envisioned filling a street in Bushwick, a low-income neighborhood with insufficient tree cover, with planters and places for people to gather and relax in the shade. Francesco Cerroni of Buro Happold, a transportation consultancy, suggests reserving streets for different uses based on the time of day. In 2021 and 2022, Women in Practice Collaborative turned an actual street in downtown Manhattan into a space for quiet contemplation. Finally, two architecture students, George McCracken and Nada Gatalo, propose reinventing a stretch of Harlem with greenery and winding pathways.
What follows are their sketches and words.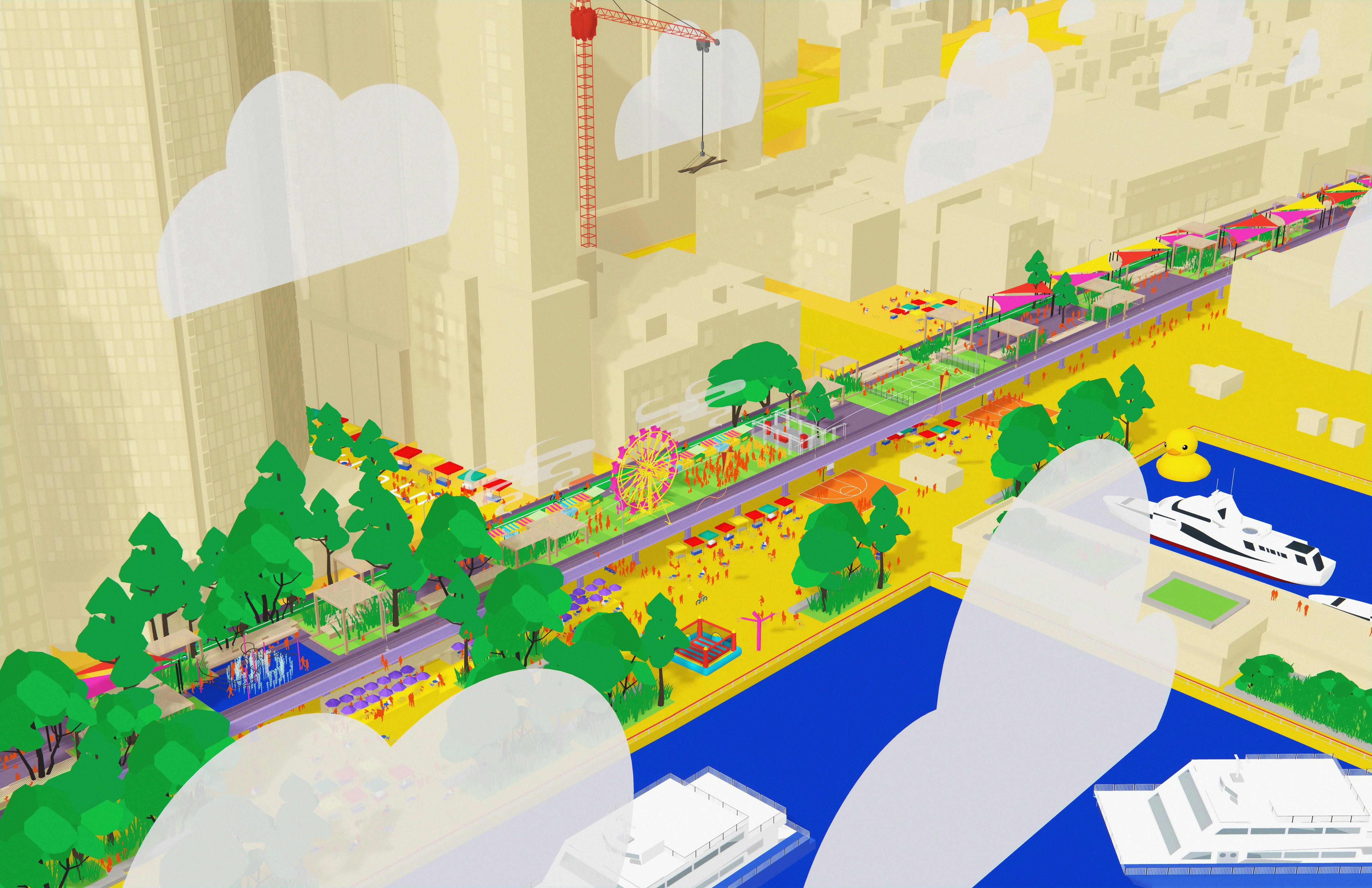 WXY architecture + urban design 
Urban Beachways: Summer Streets @ The FDR
As part of an interconnected network of Urban Beachways, FDR Drive (shown here near the South Street Seaport) would be temporarily transformed into a seaside carnival for pedestrians. Part urban beach, part CicLAvia and part Coney Island. The one-day transformation would recreate the New York seaside summer on the legs of the highway, creating a new vantage point with an uninterrupted freeway for cyclists, rollerbladers, scooters, jitneys and joggers.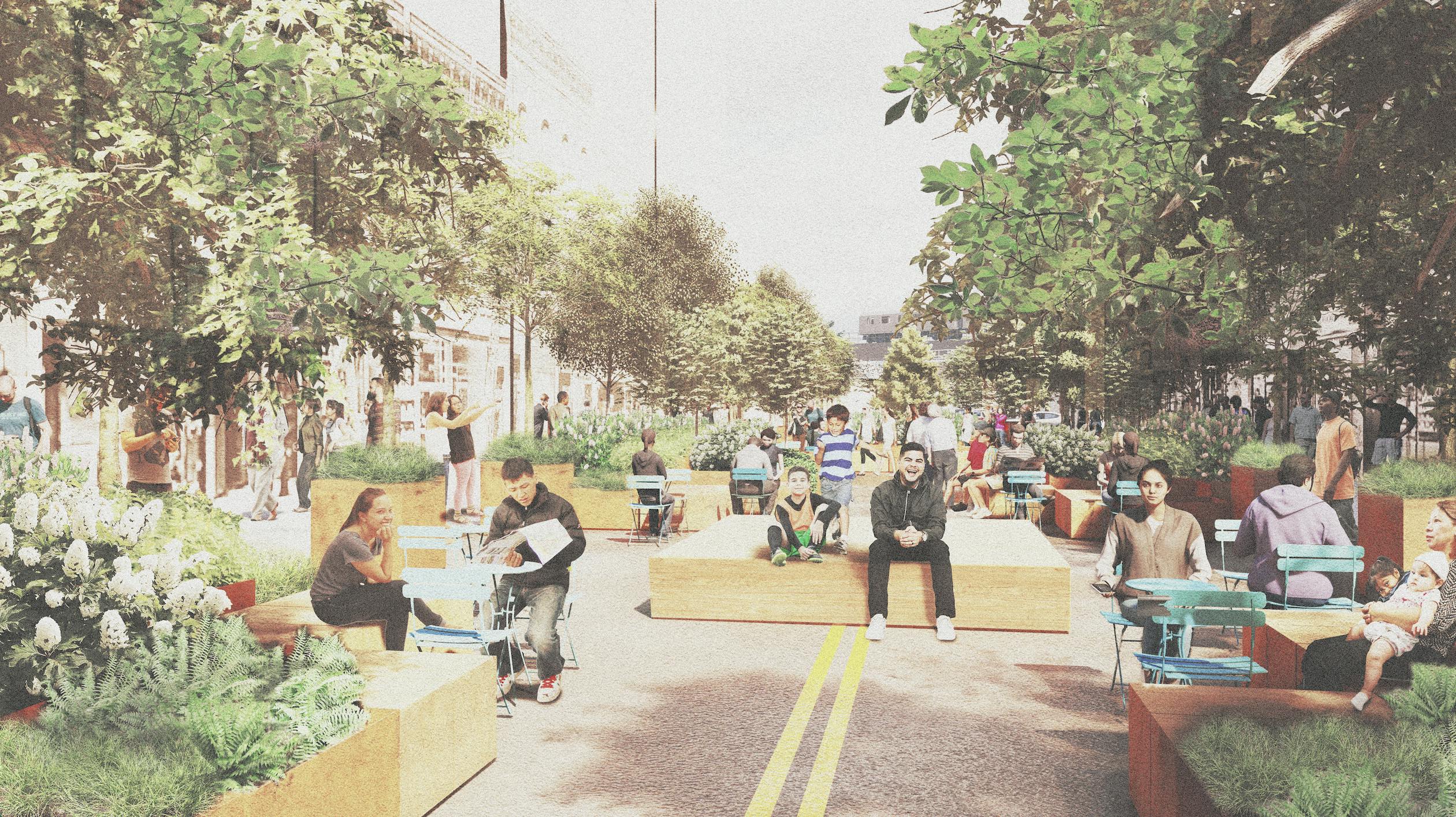 Steven Yavanian, Steven Yavanian Landscape Architecture PLLC
Forest Blocks
Forest Blocks, a proposal, would combat shade inequality and provide access to verdant public spaces in Bushwick, Brooklyn, a working-class neighborhood particularly vulnerable to the dangerous impacts of the urban heat island effect. During New York City's increasingly hot summer months, a temporary installation of raw steel planters on casters, reclaimed woodblocks and movable furniture would be aggregated into dense tree groves and woodland openings to transform and activate a treeless block of Wyckoff Avenue.
The design uses planters of varying heights to establish an undulating topography with trees positioned at high points, creating the sense of a forested enclosure. At the end of each summer, plants will be transplanted to Bushwick's outdoor public spaces to cumulatively increase the neighborhood's vegetation cover while the mobile planters and furniture will be dispersed throughout neighboring streets in need of greenery from fall through spring before being re-aggregated each summer. The Forest Blocks concept has the potential to be deployed, reconfigured and adapted to other vulnerable neighborhoods throughout New York City.

Francesco Cerroni, Principal, Buro Happold
Dynamic Modular Lanes
Diversifying street usage slows automobiles down and ensures that New York's thoroughfares better serve all types of users, including bicyclists and pedestrians. 
This open summer street is conceived as modular and dynamic. The street is flexible: Lanes would be combined and reconfigured to accommodate various modes and uses, following the changing demand throughout the seasons, the week and the day.
A lane adjacent to the sidewalk can be used as a dedicated bus lane during morning rush hours. Around lunchtime, the same lane could be turned into a greenway to facilitate connectivity to the surrounding neighborhood, with bike and micro-mobility modes. In the evening and during the weekend, the same space could be combined with adjacent modular lanes to make space for temporary programs such as art installations, events, sports and other recreational activities.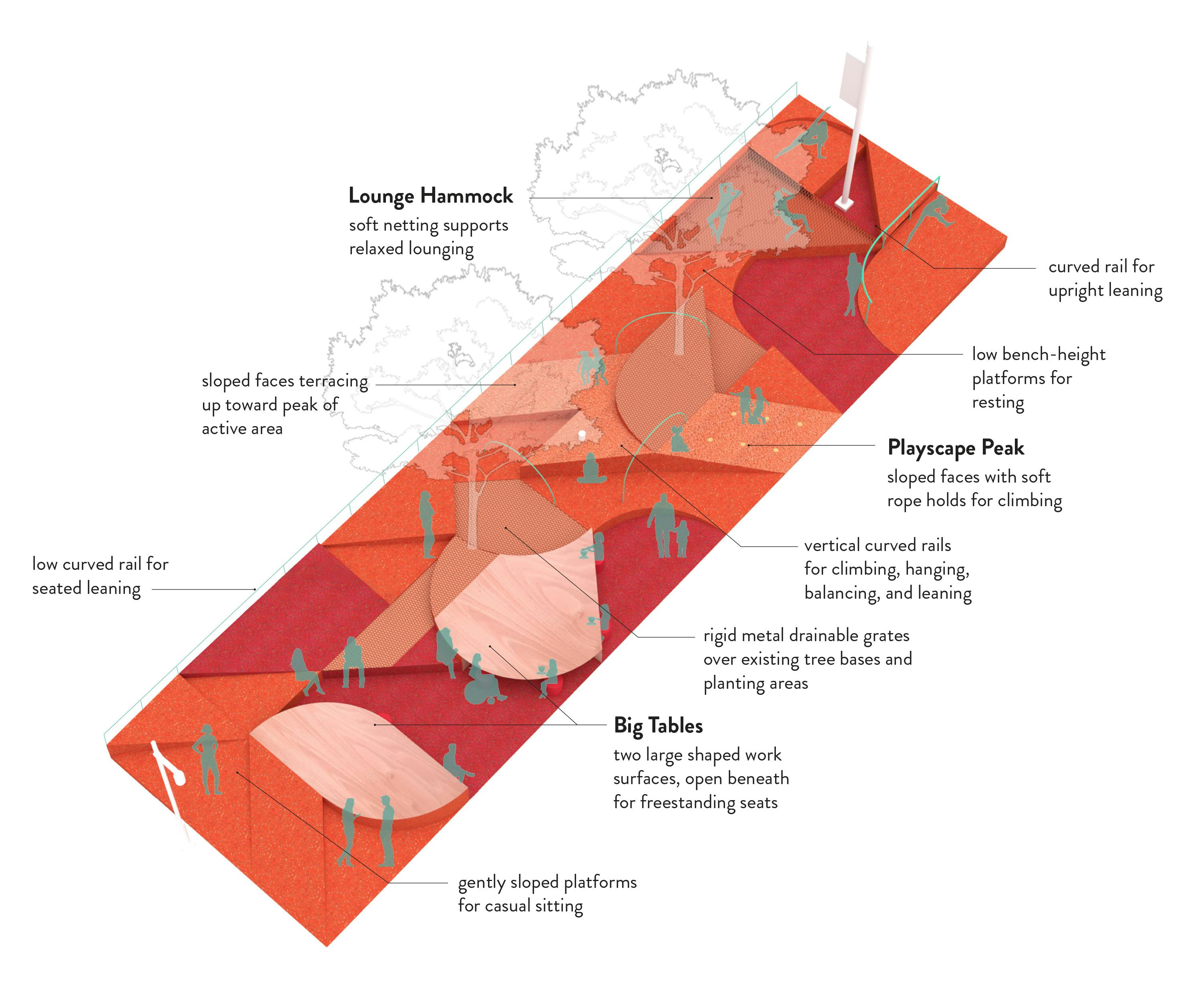 WIP Collaborative (Work In Progress | Women In Practice)
Restorative Ground, a public streetscape in Hudson Square, 2021-2022
This built streetscape — which was installed from 2021-22 on King Street between Hudson and Greenwich in Lower Manhattan — demonstrated the possibilities of a reimagined streetscape for people of all ages. Designed as an inclusive landscape of choice, the installation provided a range of spatial and experiential qualities — high and low stimulation zones, tactile materials and textures, and calm, contemplative spaces — to support a variety of individual needs and sensory preferences.
Rather than a one-size-fits-all approach to the design of public space, the installation offered this environmental range to better serve the needs of populations often marginalized in the public realm, including people with disabilities, children and their caretakers, teenagers, the elderly and more. After the social isolation and trauma of the pandemic, Restorative Ground sought to create a shared space for individual and collective engagement, recreation, escape and healing in the public realm.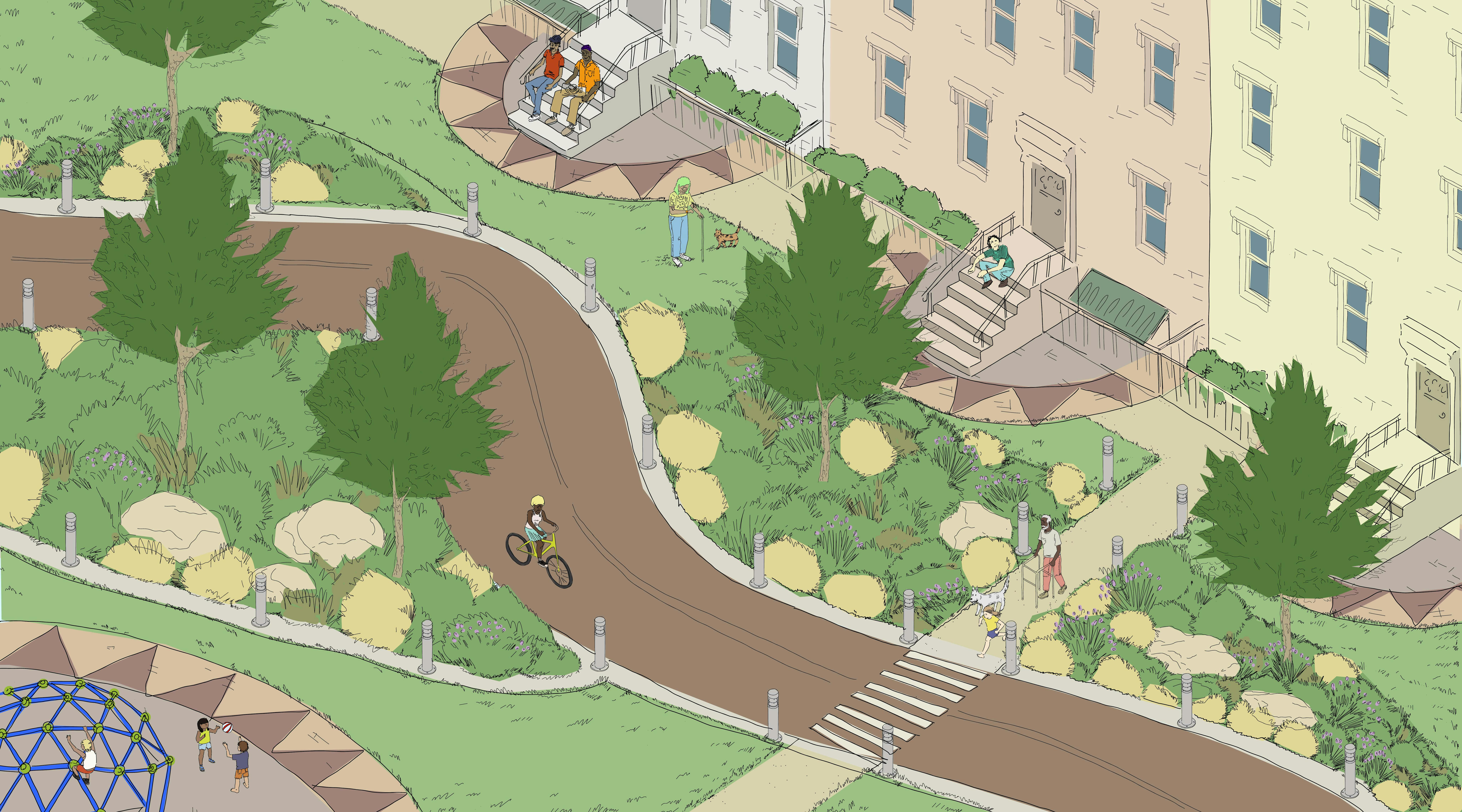 George McCracken and Nada Gatalo, students in the master of landscape architecture program, the Bernard and Anne Spitzer School of Architecture at the City College of New York
A piece in the Harlem Daisy Chain
This sketch reenvisions the block of 111th Street between Frederick Douglass Boulevard and Manhattan Avenue, as part of a park corridor connecting the northwest corner of Central Park with the southeast corner of Morningside Park. The student architects recreated the quilt motif of Algernon Miller's Frederick Douglass Circle paving design to demarcate scattered nodes of recreational activity. 
They propose eliminating traffic and replacing intensive paving with intensive planting. This intervention is part of a broader proposal to reconfigure and close the gaps between the upper Manhattan green spaces, from the top of Central Park on 110th Street to Coogan's Bluff on 155th Street, forming a new, continuous parkway they call the Harlem Daisy Chain.