One shopper's Amazon return is another's huge bargain
Outlet stores that feature low prices on a large range of inventory for everyday use have long been fixtures in many low-income New York City shopping areas — but a new breed of them is now proliferating, selling products that had been returned to online retailers at incredibly low prices. Among the typical items thrown into bins are toilet seats, bedding, underwear, shoes, bags, pots and pans, coffee makers, toys, party favors, breakfast cereals and electronic devices. Carla, a Peruvian street vendor, told me that Latinos, who make up the largest group of clients of these outlets, call them pulgueras (flea markets).
In these stores, prices often vary from day to day according to a predetermined schedule. For example: Monday $3, Tuesday $2, Wednesday $1, Thursday closed to restock the merchandise; $10 on Friday, when the new merchandise is on display. In my experience, this is also the day that men prefer to shop since mechanical and electronic items fall into the highest price range.
On some days, prices are halved. Frequently, signs announce that the store is going out of business, the reason for the slashed prices. Customers are warned that some of the items may be past their expiration date, or that the merchandise may be damaged. No refunds are offered; you must buy "as is."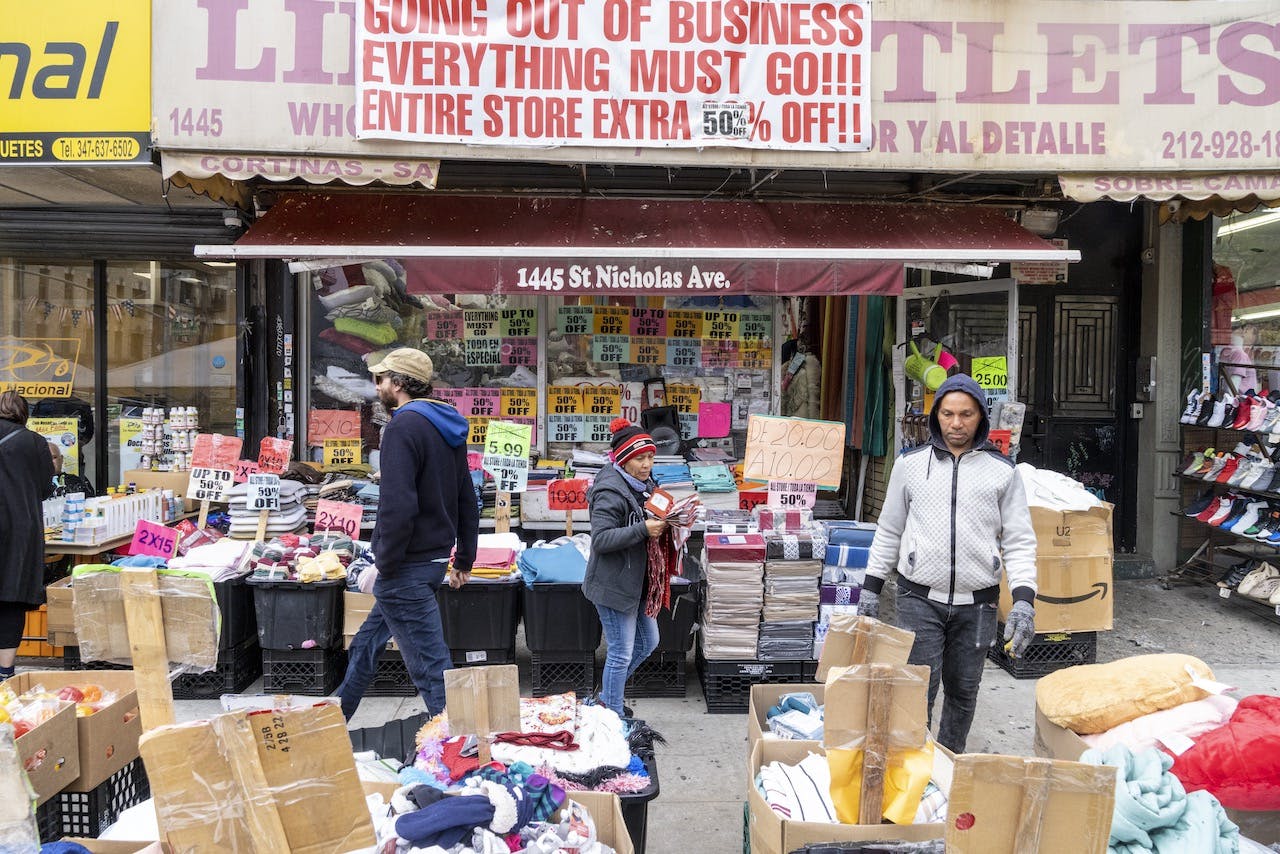 Outlets are brightly lit, inside and out. A security guard stands at the entrance, and the cashier oversees shoppers from behind a table with a cash register in an elevated, enclosed area with a tall chair at the back or side of the selling room. In dozens of trips to these stores in recent months, I have been followed out of the store twice by a security guard for photographing inside the outlet with a professional camera. Fortunately for me, the guards had to return to the stores to do their jobs.
The places are usually packed with mostly immigrant shoppers rummaging around for a deal. Children play with the assortment of mostly Chinese-made items while their mothers concentrate on shopping. 
Often, music is playing, reflecting the ethnicity of the shoppers. "Last night I dreamt about you, I dreamt that you loved me," was the song I heard in a store in Washington Heights. The Harlem outlet was playing African music while one in the Bronx played mournful Arabic music.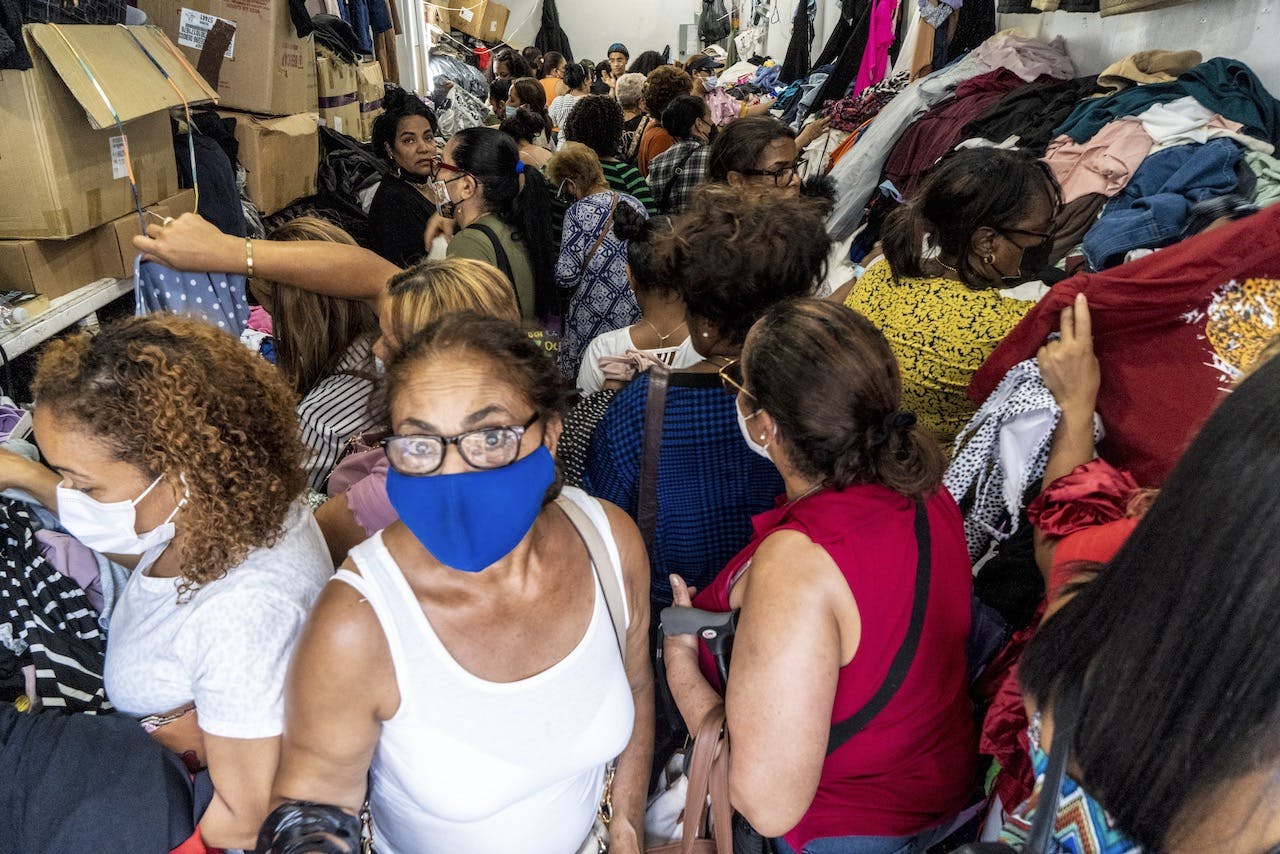 In one store, I saw a man taking pictures of items while talking on his cell phone and sending the photos to the interested person at the other end of the line. 
"I'm looking for rubber shoes," I heard him say. A woman on her cell phone was reporting to her listener: "They have suitcases. They are small. You can't fit a lot in them." A child told his mother: "I want a bicycle."
In these stores, décor is irrelevant. Objects are simply thrown together in cardboard boxes or placed in wooden bins. Larger items such as furniture and mattresses are lined up against the walls. The way the merchandise is displayed does not affect sales. Shoppers know how to search for what they need or don't know they are missing. The manager of one of the stores told me that once a customer found an iPhone 12 in a cardboard box. I saw an Amazon box with a note stating that the item inside was defective, unable to produce enough heat. A message on another Amazon box thanked customers for being recyclers and for giving "the product a second chance."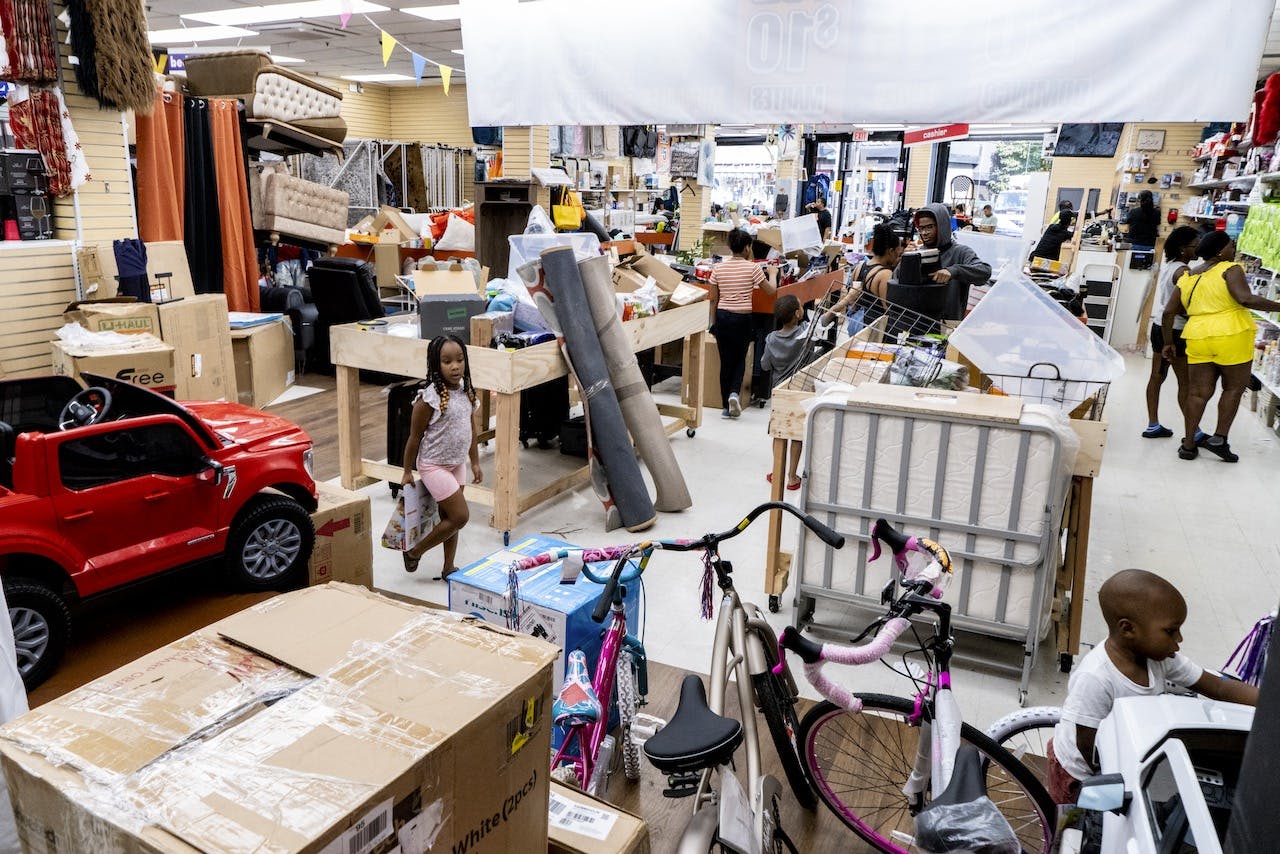 A security guard warned me not to open the boxes but instead to scan the code printed outside with my phone. When people open the boxes, he informs me, "they fail to put back the contents."
A friend remarked that these stores and their pricing system are low-budget descendants of the former famed Filene's Basement, where, according to a 1982 article in the New York Times, "... every article is marked with a tag showing the price and the date the article was first put on sale. Twelve days later, if it has not been sold, it is reduced by 25%. Six selling days later, it is cut by 50% and after an additional six days, it is offered at 75% off the original price. After six more days—or a total of 30 — if it is not sold, it is given to charity." While Filene's Basement attracted a mixed clientele that reflected the population of the entire region, those shopping in pulgueras are overwhelmingly poor, immigrant and minority.
Pulgueras are familiar to me from stores in the low-income barrios of Santiago, Chile, which I visited when I lived there as a teenager in the late 1950s, a time when, as a recent arrival to the big city, I imagined myself destined for a life of involuntary poverty. I never expected that these pulgueras would follow me to New York City, and that in their newest form, they would thrive being supplied by a giant wave of returns from Amazon and other online retail giants.