What a photographer witnessed on a Brooklyn subway platform
Last month, writer and documentarian Camilo Vergara witnessed a confrontation on a subway platform between police and an agitated and injured man. This is his account of what he saw; in a companion piece, Brandon del Pozo, former police officer and commander and current assistant professor at the Warren Alpert Medical School of Brown University, offers his perspective on how police might have read the jeopardy in the situation.
1. The start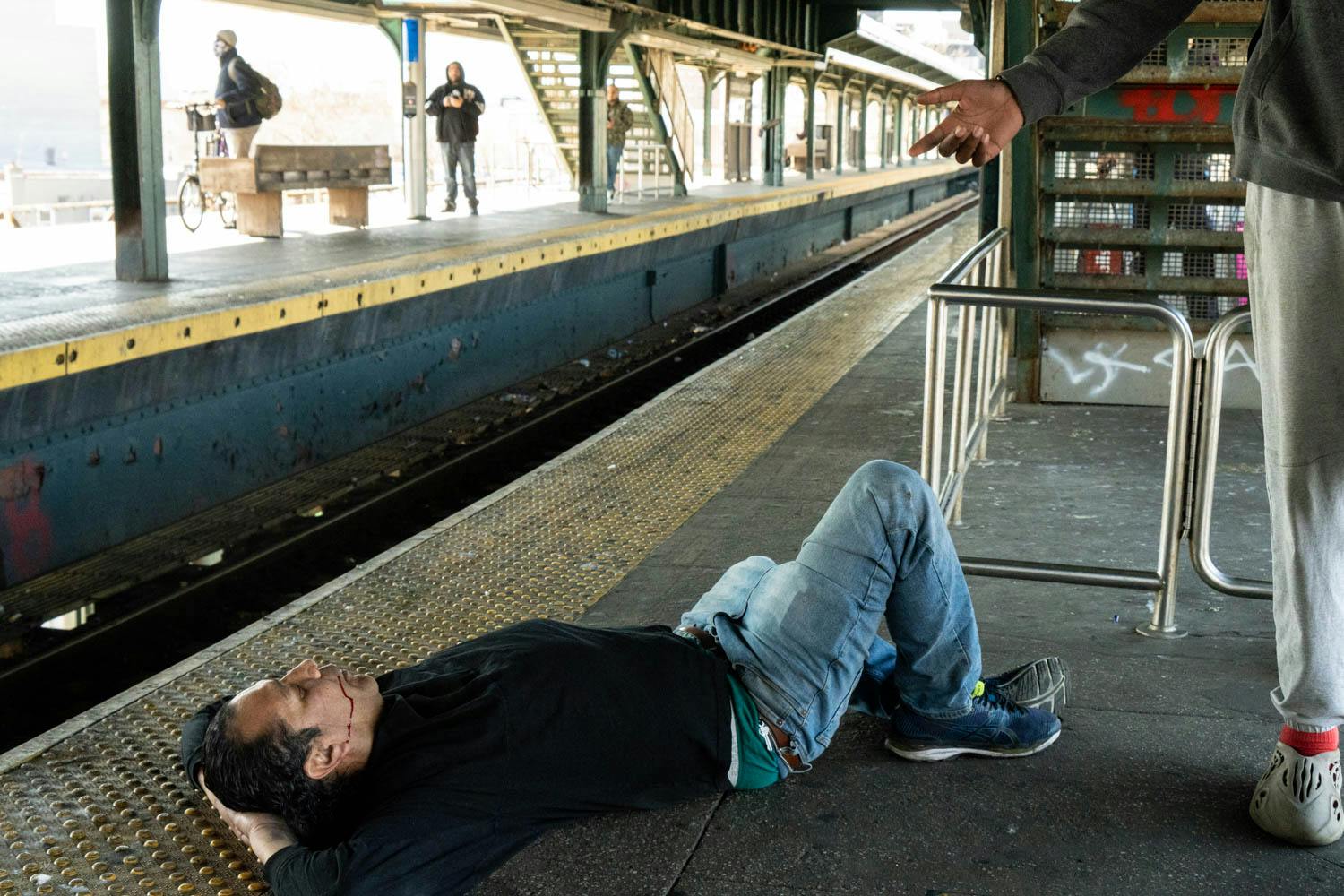 On Tuesday, April 11, I was shaken by a police-civilian confrontation on a subway platform and wanted to understand what I saw.
When I arrived at the platform of the J and the Z train at the Broadway Junction Station in Brooklyn, I saw a strongly built man lying on the cement floor, his eyes closed, his hands behind his head, a long, thin line of fresh blood flowing across his face from his swollen upper lip.
2. Police arrive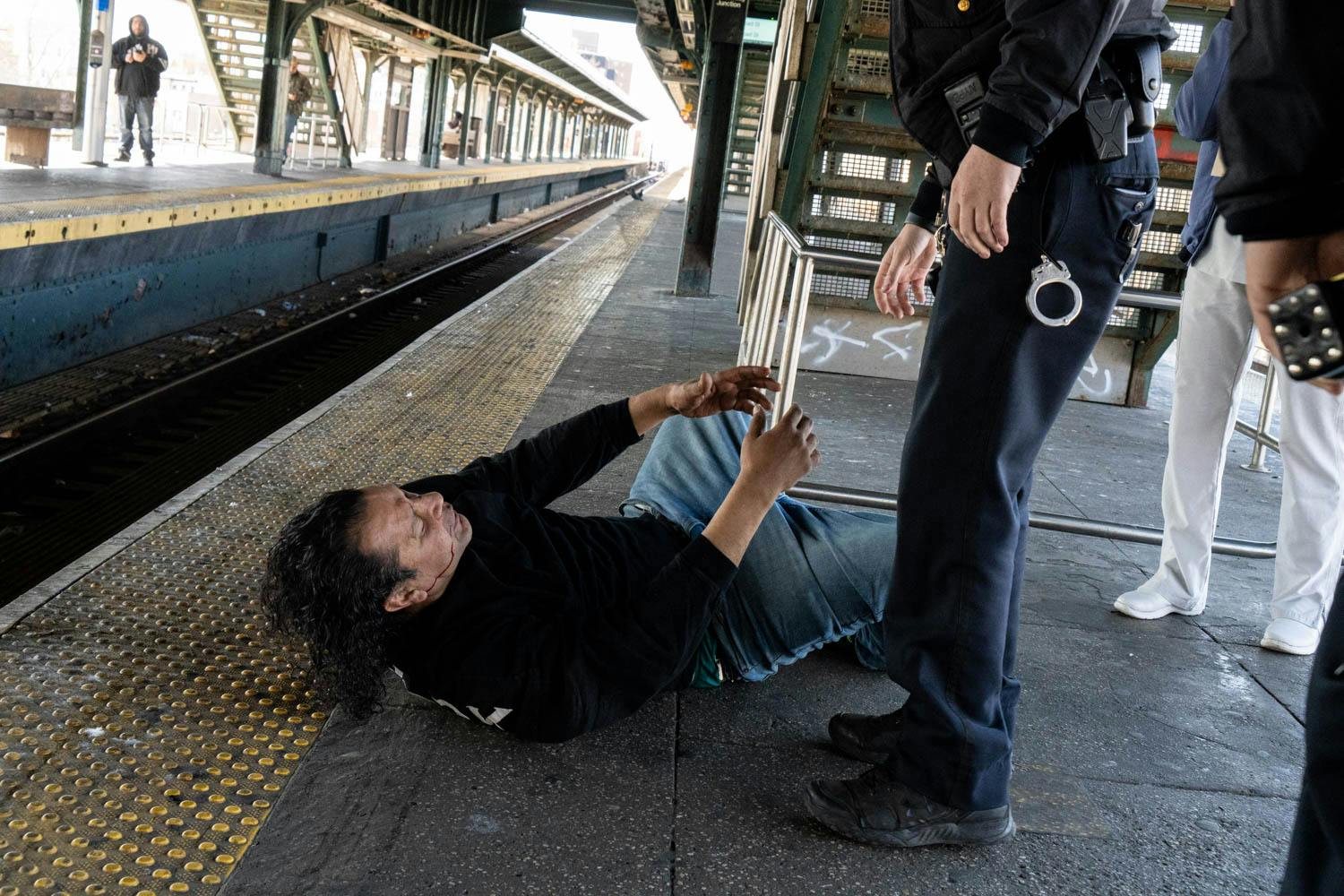 Next to him, a woman was calling 911. Two policemen came, and since I was standing there, one of them asked me what was happening. I answered that I had just arrived and told them to ask the woman, but she didn't know either. 
Surprisingly, I was able to closely photograph what transpired. The policemen, one white and the other Latino, asked the man: "Do you know you are bleeding?" He mumbled that two men had hit him. "We want to help you," they said, and the man turned his hands upwards as if asking them to pull him up. 
So far, the interaction was calm.
3. Matters escalate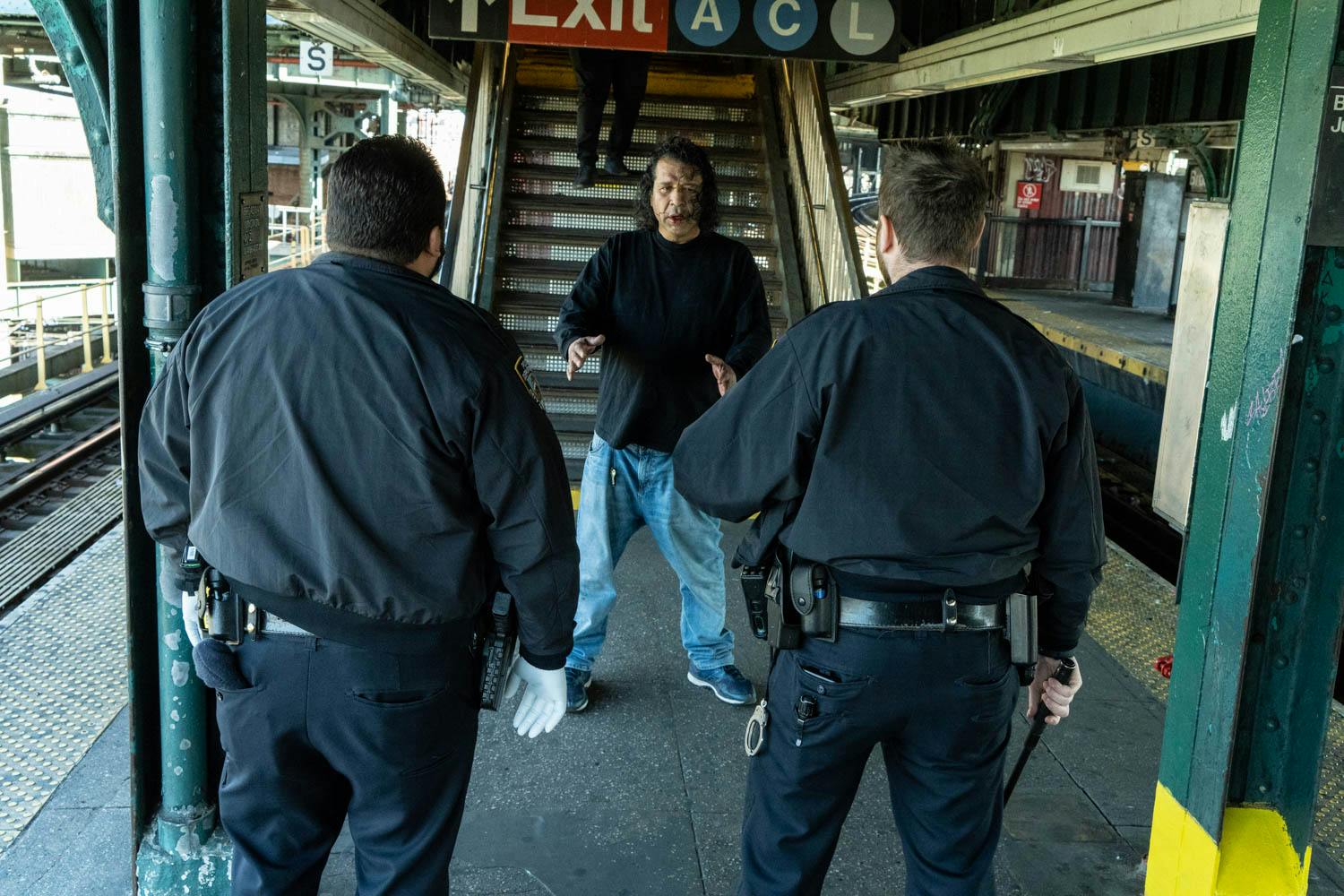 Once standing, as the man tried to make his way toward the exit, he angrily addressed the policemen, asking, "Are you following me?" He expressed annoyance at the presence of "the blue-eyed cop." He said more than once that he wanted to leave. But the policemen called for reinforcements and blocked him from going upstairs and exiting the station. One of the policemen was holding a weapon, an expandable baton.
4. Police use force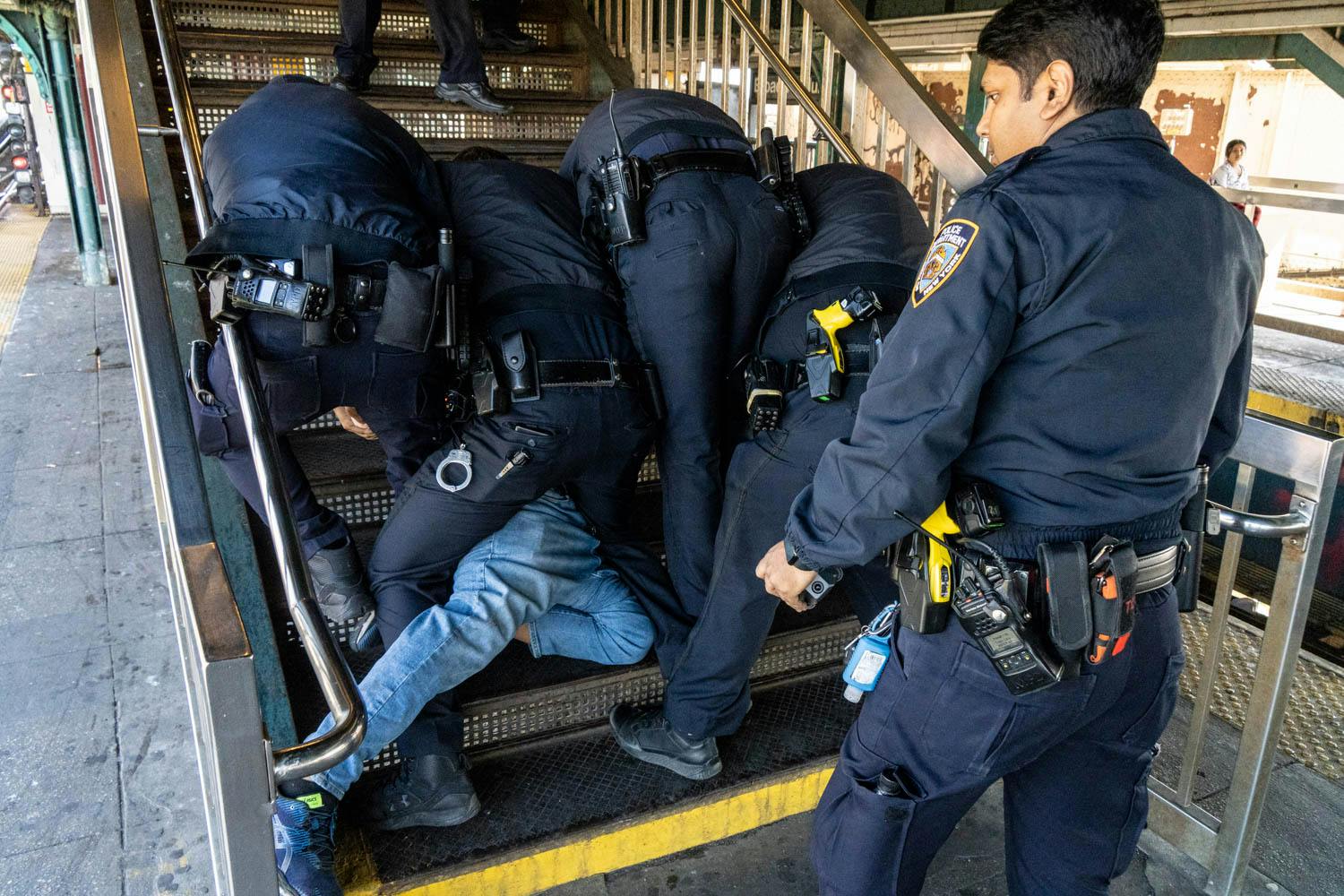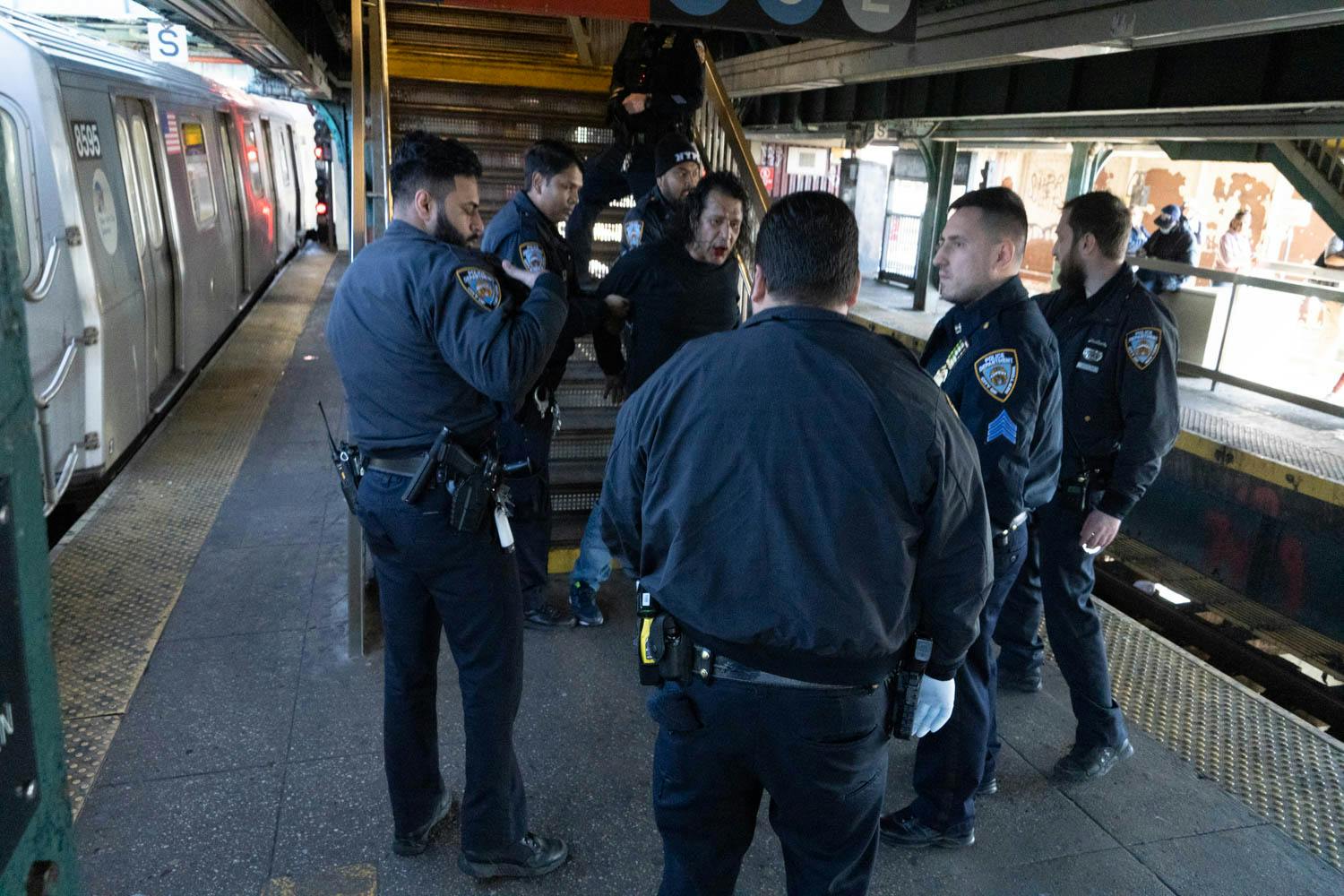 Then there were four policemen, who pushed him down on the stairs. After a struggle, they managed to handcuff him and lead him away. From above, a superior officer was supervising the arrest. If it hadn't been for the man's bloodied and distorted face, the struggle looked to me like an organized training exercise.
The man was furious, yet he didn't appear to me to be a danger to others or to himself. I guessed that he wanted to lick his wounds and recover from the humiliation of having been assaulted by whoever hurt him initially, and turned his anger against the police, who reacted with force to his insults.
Should the policemen have ignored his insults and allowed him to leave the station on his own? How often do peaceful and even helpful police-civilian interactions turn into such confrontations? On what basis do police decide to subdue and arrest such agitated people?